A snowstorm of rare vigour and durability has forced the Greek government to delay the country's Covid-19 vaccination drive after citizens were advised to remain at home.
Inoculation centres, including mega facilities capable of vaccinating up to 20,000 people a day, were ordered to close as the unusually cold front swept across Greece.
"We obviously recommend great care be taken in all movement, all unnecessary movement should be avoided," said the prime minister, Kyriakos Mitsotakis, after holding emergency talks with civil protection leaders. "I think we'll all have to show patience as we deal with a phenomenon that is truly unprecedented."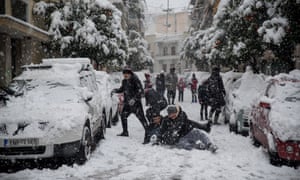 Hampered by the slow rollout of vaccines across Europe, authorities have so far managed to inoculate only a fraction of Greece's 11 million strong population.
An estimated 7.5 million people would need to have received the jab to achieve herd immunity, according to epidemiologists.
Health officials had accelerated the campaign on Monday, when giant vaccination centres in Athens and the northern metropolis of Thessaloniki opened, before services were halted because of the storm.
Power shortages and water supply cuts caused by uprooted trees were reported in central Greece and in multiple municipalities across the capital, where most Greeks live. The fire service said it had received more than 600 calls for assistance in greater Athens by mid-afternoon. Some 450 men, women and children, forced to endure the freezing temperatures in tents in a refugee camp close to the city centre, were relocated to another installation.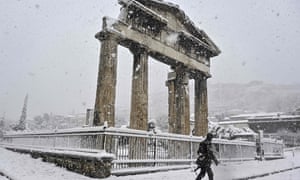 The vaccination drive to date has focused mostly on elderly people in care homes, with officials announcing the milestone of 500,000 inoculations being crossed at the weekend.
Greece has recorded 173,905 coronavirus cases and just over 6,000 deaths since the outbreak of the pandemic a year ago.