On 9 November, a migrant rescue boat came across a red backpack floating in the Mediterranean alongside other remains from a shipwreck that took place weeks before. The rucksack, covered with sea snails and reeking of petrol, contained two wedding rings, inscribed with the names Ahmed and Doudou.
"We thought it was proof of yet another love story that ended up at the bottom of the sea," said Riccardo Gatti, the president of the NGO Open Arms in Italy, who recovered the personal items. "Unfortunately we find many of these. Most of the time suitcases and bags, floating in the sea, are nothing more than symbols of yet another journey that began in Libya and ended in tragedy."
Nevertheless, as it always does, Open Arms activated a procedure to try to trace the owners of the belongings by sharing the photos on their social channels and among their networks of contacts. "What happened next was exciting," Gatti said.
Thanks to an article published in the newspaper La Repubblica that carried photos of the rings, the charity Doctors Without Borders (MSF) discovered they belonged to a newlywed Algerian couple, Ahmed, 25, and Doudou, 20.
The couple, who were staying at a reception centre in Sicily, were among 15 survivors of a shipwreck that took place off the coast of the island of Lampedusa on 21 October in which five people died.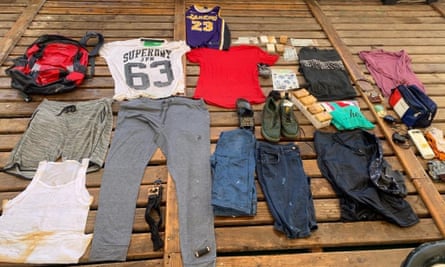 The contents of a rucksack belonging to Algerian couple Ahmed and Doudou, which was found in the Mediterranean by the NGO Open Arms in Italy. Photograph: Open Arms
"As soon as they showed us the photos of the rings, I couldn't believe it," Ahmed said in a message passed on by MSF. ''We had lost everything and now the few things we set out with on the journey have been found. It's incredible.