Two police officers are being investigated for alleged violent behaviour during an operation to break up a protest migrant camp in Paris.
The public prosecutor's office announced it had ordered inquiries into two specific complaints against officers dispatched to remove a group of mainly Afghan migrants from Place de la République in the centre of Paris on Monday evening.
One investigation concerns an officer filmed apparently deliberately tripping up a man who was running away from the police, causing him to fall badly. The second concerns a police officer filmed holding a journalist on the ground while appearing to threaten him with a truncheon.
Rémy Buisine, a reporter with the news website Brut, claimed he was attacked by the same officer "three times" during the evening.
Claire Hédon, the independent defender of rights for France, announced she would be looking into the police actions.
Several hundred migrants had set up tents in Place de la République after a call by humanitarian organisations; most had been already thrown out of an ad hoc camp on the northern edge of Paris last week and had nowhere to go.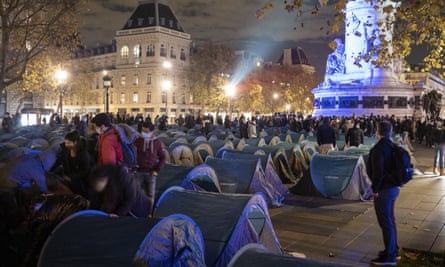 The makeshift camp, before the clearance, at Place de la Republique, Paris. Photograph: Alexandra Henry/AP
The French authorities sent in a squadron of mobile gendarmes as well as officers from the anti-crime brigade and several companies from a "security and intervention unit" to break up the camp.