The partner of Norway's right-wing former justice minister has gone on trial in Oslo accused of making false threats and staging attacks – including vandalism and arson – against the couple while making it appear an anti-racist theatre group was to blame.
In a case that has gripped the country, Laila Anita Bertheussen faces 16 years in jail for endangering democracy by allegedly sending multiple threatening letters to her partner, Tor Mikkel Wara, and two other high-ranking politicians – including another minister – from the populist, anti-immigration Progress party.
She is also accused of vandalising the couple's Oslo home, daubing their house and car with a swastika and the word "racists" – misspelled – and setting fire to the same car in the driveway, in an effort to incriminate the the Black Box theatre group.
On the first day of the trial, which is being broadcast live on Norwegian television and is due to last until November 13, Bertheussen, 55, denied all charges, answering "no" 15 times as they were read out. Wara, who resigned in March 2019 when his partner was named as a suspect and will testify next week, sat at the back of the courthouse.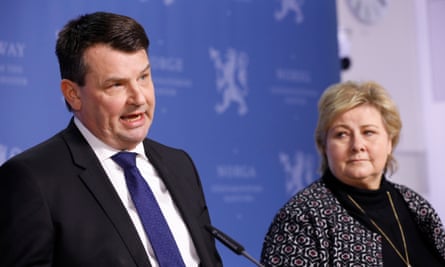 Norwegian minister of justice, Tor Mikkel Wara (L), annoubces his resignation beside PM Erna Solberg in March 2019. Photograph: Gorm Kallestad/AFP/Getty Images
"Our allegation is that it was the defendant's intention to make it seem as if someone from the play Ways of Seeing, or someone who sympathised with it, was behind these acts," the state prosecutor, Marit Formo, said in her introductory speech.
"In our opinion, the circumstances have to do with this play, which took place at the end of November 2018. It is the prosecution's case that it was the play and some other subsequent events that drove the defendant to commit the acts the indictment."
The court heard that Bertheussen and a girlfriend attended a performance of the play on 28 November 2018, filming parts of it on their phones and leaving before the end. In December she filed a formal complaint against Black Box for invasion of privacy.
The production featured images of the homes of several Norwegian politicians – including that of Wara and Bertheussen, who have cohabited for many years – who the theatre group argued were among those making Norway a more racist society.
The first threatening letter appeared in the couple's letter box on 6 December and the attacks culminated more than a year later, on 10 March 2019, in the firebombing of their car. Prosecutors allege Bertheussen carried them out but wanted police to conclude anti-racists, and specifically Black Box, were to blame.
Bertheussen was charged shortly after the arson attack, prompting Wara – who had attracted widespread public sympathy in the wake of the threats, which he described as "an assault on democracy" – to step down from his position as justice minister.