Police investigating the murder of the journalist Daphne Caruana Galizia have questioned the prime minister's closest aide over claims he was the mastermind behind the killing, according to sources close to the inquiry.
The allegations against Keith Schembri were made by a prominent businessman, Yorgen Fenech, who was arrested last week and is understood to be seeking legal immunity in return for his testimony.
Fenech has also alleged the men who planted the car bomb that killed the reporter were paid €130,000 (£111,000), according to sources familiar with the inquiry.
The businessman has been attempting to implicate Schembri, a close friend of the prime minister, Joseph Muscat, in his statements to police.
Schembri was arrested in connection with the murder on Tuesday morning and is now on police bail. He has previously denied having any connection to the murder of Caruana Galizia two years ago. His lawyers did not respond to a request for comment.
Police have said they are trying to corroborate Fenech's claims and not all of them have been reliable, according to reports in the local media.
Muscat said he would comment only "once investigations are over, hopefully in a few hours."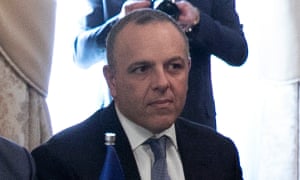 Caruana Galizia's work exposed corruption at the highest level in Maltese political and business circles and she was widely seen as a thorn in the side of Muscat's Labour government.
She was killed when her rental car exploded near her home in the village of Bidnija in October 2017. The killing drew international condemnation and raised questions about the rule of law in the EU member state.
Fenech was arrested last week onboard his yacht. He is understood to have claimed to police that Schembri approached him about Caruana Galizia in November 2016.