Conservation experts in Spain have called for a tightening of the laws covering restoration work after a copy of a famous painting by the baroque artist Bartolomé Esteban Murillo became the latest in a long line of artworks to suffer a damaging and disfiguring repair.
A private art collector in Valencia was reportedly charged €1,200 by a furniture restorer to have the picture of the Immaculate Conception cleaned. However, the job did not go as planned and the face of the Virgin Mary was left unrecognisable despite two attempts to restore it to its original state.
The case has inevitably resulted in comparisons with the infamous "Monkey Christ" incident eight years ago, when a devout parishioner's attempt to restore a painting of the scourged Christ on the wall of a church on the outskirts of the north-eastern Spanish town of Borja made headlines around the world.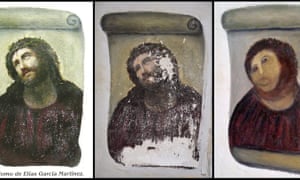 Parallels have also been drawn with the botched restoration of a 16th-century polychrome statue of Saint George and the dragon in northern Spain that left the warrior saint resembling Tintin or a Playmobil figure.